Photo by Suzy Hazelwood from Pexels
So, you want to learn how to make a t-shirt quilt, huh?
Before you know it, you will be sitting at your sewing machine, creating like a pro!
But first:We need to cover some of the basics of a t-shirt quilt. You probably have so many questions!Like:
How many t-shirts do you need? Will you need to prep them in some way to sew with them? What should you buy?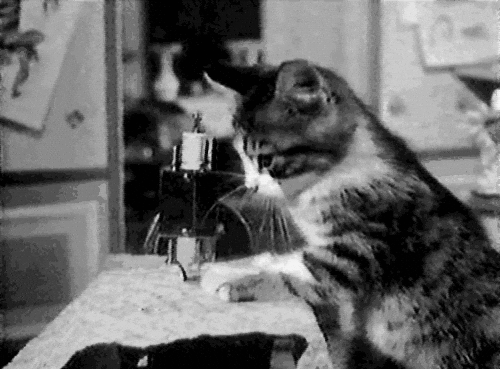 Photo from GIPHY
Not to worry!I'll cover it all in this article, so stay with me.
What is a T-Shirt Quilt?
So, what exactly is a t-shirt quilt?
Well, it's basically just how it sounds. T-shirts are the primary fabric in the quilt top. However, you will need material for things like sashing (if you plan to have a grid of cloth between the t-shirt patches), the quilt backing, and the binding.
But, more on that later.
T-shirt quilts are a great way to put to use those special t-shirts that are no longer worn, but you don't want to part with.
Maybe they are your father's shirts from 20 years of employment at a company. Or, maybe your kids played in a league for years, and you have heaps of shirts they've collected.
Whatever the reason for the collect, this keepsake quilt will be a treasured piece for years to come.
Choosing T-Shirts
You'll want to take inventory of the t-shirts you have available for use. The content and quantity of those shirts will help you make some decisions later.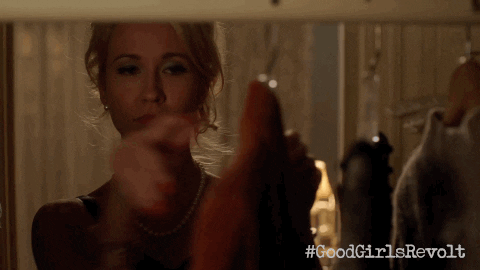 Photo from GIPHY
I recently made a t-shirt quilt that was made of the clothing from a late grandmother. Her family saved her clothing and asked that I make a full-size quilt for her granddaughter.Nearly all of her clothing was beach themed, with fish and shells. It made for a lovely quilt!However, not all the clothing needs to be themed — this can be an eclectic piece and be perfect!So, have some fun with it.
Quilt Sizes
Deciding the size of your t-shirt quilt will depend mostly upon the number of shirts you have available and how you plan to use this item.
To determine what you need below is a chart with some basic sizes and an approximate number of shirts you may need.
Example:
If you're making a 75-inch by 75-inch twin size quilt, you may want five rows of five shirts each, which will create your square. That means you'll need 25 shirts in total.
So, your t-shirt squares will be cut into 16-inch squares, to account for your seam allowance.
But, more on that later. . .
| Quilt Type | APPROXIMATE SIZE | ESTIMATED # OF T-SHIRTS |
| --- | --- | --- |
| Lap | 45″x60″ | 12 (3×4), 15 (3×5), or 16 (4×4) |
| Twin | 60″x90″ or 75″x75″ | 16 (4×4), 20 (4×5), 24 (4×6), or 25 (5×5) |
| Full | 75″x90″ or 90″x90″ | 20 (4×5), 25 (5×5), 30 (5×6), or 36 (6×6) |
| Queen | 90″x105″ | 30 (5×6), 36 (6×6), or 42 (6×7) |
| King | 105″x105″ | 30 (5×6), 36 (6×6), 42 (6×7), 49 (7×7), or 56 (7×8) |
Supplies You'll Need for Your T-Shirt Quilt
Photo from Pexels
Let's talk supplies.While most of the quilt top will be made of your shirts, there are some items you will need to purchase.You'll need fabric for quilt backing. You'll also need fabric for sashing if you choose to add fabric between your t-shirts blocks.You may also choose to have the quilt binding be the same fabric as the back, or you might prefer something that is complimentary.Note:If you plan on sending your quilt to a long arm quilter for completion, you may not need to worry about binding, as that is a service they can provide.A few other items you'll need to purchase are a stabilizer, batting, thread, and quilting needles.
Shopping List:
Backing fabric
Fabric for sashing
Fabric for quilt binding
Stabilizer
100% cotton batting
Thread
Quilting needles
Shopping time!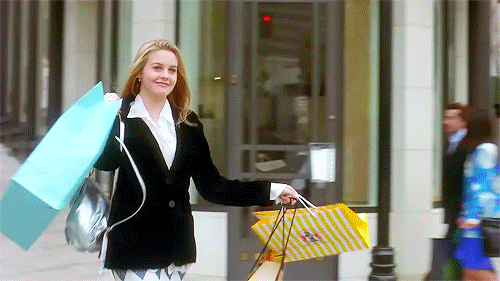 Photo from GIPHY
However, if you're unfamiliar with what these things are, you may have some questions.So…
Let's talk fabrics
Fabrics! OMG!
Photo from Pexels
Going to the fabric store is so exciting! But, there are so many things to consider.Like:What fabric is the best to buy for quilting? What will work best for your t-shirt quilt?For the backing, you're going to want to look at quilt fabrics. Most fabric stores will have a section dedicated to just quilt fabrics — in fact — it's usually the most extensive section of the store.
Quilter's Quick Tip
Select extra-wide fabric, which is over 100″ wide for quilt backs, so you don't have to work with a middle seam down the back of your quilt
What is a stabilizer?
Normally quilts are made of quilting cotton fabrics. While they can be soft and even stretch a little bit, they by no means are considered stretchy.Now think about your favorite t-shirts. They have a lot of give and stretch, right?
This is not ideal for quilting.
But, t-shirt quilts are so beautiful and comfy!
So, to keep your squares, square a light fabric webbing called stabilizer or interfacing is applied to the back of your t-shirt piece. This will keep your patch from stretching or distorting. It also helps keep your edges straight together while sewing.
There are different weights of stabilizers.
Example:
Purse straps require a heavyweight stabilizer.
Photo by Tan Danh from Pexels
Shirt collars and cuffs require medium weight stabilizers.
Keep in mind that you probably don't want an excessively stiff quilt.
So:
Using a light stabilizer will produce a soft, cozy blanket while still giving you some support against the stretch as you sew the pieces together.
What kind of batting should I use?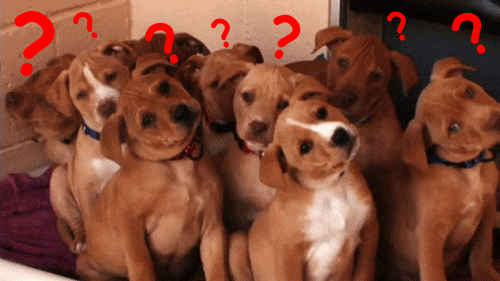 Photo from GIPHY
Now, this is not a place you want to skimp or cut costs.
You're going to want a high-quality quilt batting for your t-shirt quilt.
Because you're using t-shirts, which are a heavier weight fabric than most quilting cotton fabrics, and because you've increased the weight of that fabric by adding your stabilizer — you'll probably want to use a low-loft (thinner) batting.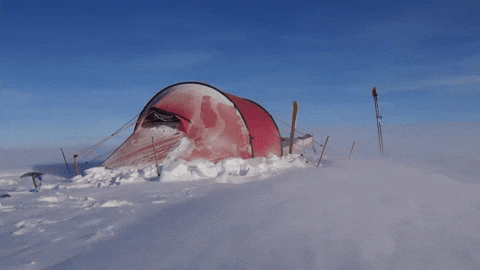 Photo from GIPHY
Low-loft batting is especially important if this quilt will be used in places anywhere other than say…
Antarctica.
Oh yes, these quilts can get really heavy, really fast. Some of the batting materials, like polyester, don't breathe which can make the quilt even hotter to sleep under.
There are five types of battingThese include:
100% polyester
80% cotton/20% polyester blend
100% cotton
100% wool
Bamboo
Choosing the batting is often just a personal preference.However, here are some things to think about:
How much space will there be between your quilting rows? How warm do you want this quilt to be? Will it be used and washed often?
Most t-shirt quilts use large blocks to capture the images on the t-shirts – so your quilting rows will likely have more extensive areas of unquilted space.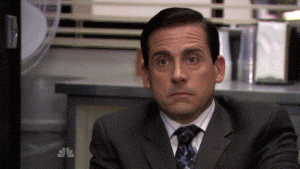 Photo by GIPHY
Some types of batting have parameters for maximum space between those rows. This is so the batting inside the quilt doesn't bunch up through washings and use.
When you shop for batting for your t-shirt quilt, look for batting with the maximum unquilted area allowed.
Also:
Different types of batting will shrink more than others. Polyester doesn't shrink like cotton. However, it will wad up in washings if un-quilted areas are more than about three square inches.
Polyester also doesn't "stick" to your quilting cotton fabrics and can cause layers to slip during the quilting process.
This makes for a very lumpy quilt and certainly a very lumpy t-shirt quilt unless you're planning to quilt over the entire quilt top. Normally, this is unlikely with a t-shirt quilt, so I'd recommend staying away from polyester batting.
In my personal experience, pre-shrunk needled 100% cotton batting performs the best in bed quilts, including t-shirt quilts. The second choice would be a poly-cotton blend.
Supply costs
While the bulk of your quilt top will be made of t-shirts you already have, you'll still have some considerable costs in supplies.High-quality quilting cotton fabrics range in price from $4 to $16 a yard. Many fabric stores run specials, so you can often find a good sale price.Depending on your quilt size, you may need up to four yards (for a king size quilt) of quilt backing. If you choose to have sashing between your t-shirt blocks, that will be an additional yard or two.You'll also be binding your quilt, which will require another yard of fabric.
Estimated Supply Costs for a T-shirt Quilt
Fabric (up to seven yards): $30 to $120

100% Cotton Batting: $20 to $60

Stabilizer: $5 to $10

Thread and needles: $10 to $20
Total estimated supply costs: $70 to $200
How to Make a T-Shit Quilt in 9 Steps
Ok, so you have your supplies, and you're ready to get started.What now?We will walk you through the steps.Here we go!
Step 1: Pre-wash your fabrics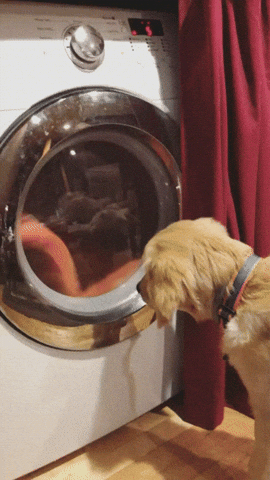 Photo from GIPHY
The very first thing you want to do when making any kind of quilt, not just a t-shirt quilt, is to pre-wash your cotton quilting fabrics. This step is vital as it reduces the risk of the fabric shrinking after you've put together your quilt.
Fabric shrinking=distortion in your quilt. You don't want that!It also helps prevent colors bleeding on to each other, especially if you have bold or contrasting colors.After you wash and dry your fabrics, you'll want to iron them.
Quilter's Quick Tip
Ironing quilting fabrics will help keep your cutting lines clean and accurate
Step 2: Prep the t-shirts
Once you've selected the shirts you want to use, you'll need to wash and dry them, also. Make sure not to use fabric softener!Next:You're going to cut the shirts.
Quilter's Quick Tip
Use sharp fabric scissors or a rotary cutter to cut as close to the seams as you can to maximize the amount of useful fabric from the t-shirts
This will just be a rough cut to make the t-shirt a "raw supply." Don't worry about accuracy during this part, just cut as close to the seams as possible to salvage the maximum amount of t-shirt fabric.You'll be adding a stabilizer to your pieces, next.
Step 3: Add stabilizer to the t-shirt pieces
The stabilizer is ironed on to the "wrong side" of your t-shirt pieces. You'll cut the stabilizer larger than the size you'll be using for your t-shirt blocks. Then, place the stabilizer piece on the backside of your raw t-shirt swatch, taking note of the position to make sure captures the content you want that is on the front of the shirt and iron it on.Once the stabilizer is ironed on, you can do the finishing cut of your t-shirt block using a quilting square ruler.For accuracy, you should use a rotary cutter for this task.This video gives some great tips for this step:
Step 4: Cut your sashing
Photo from Pexels
If you aren't using sashing, you can skip this one and move on to the next step.If you are using sashing on your quilt — quilting fabric between your t-shirt blocks — you'll want to go ahead and cut your strips now.Again:Be mindful of your 1/2 inch seam allowances. So, if your design has two-inch strips between your t-shirt blocks – you'll want to cut your sashing strips three inches wide to account for those seams.
Step 5: Cut your binding
I find it easiest to do all of the cutting before moving on to the sewing steps. While it isn't necessary to do it all on the front end, it just seems to be the most efficient.Binding is the finishing edge of your quilt.You can choose the width, as there is really no "wrong" answer; however, in my experience one-inch binding is the easiest to work with. Because binding is folded, and you must account for 1/4-inch seam allowances on your binding, you'll be cutting strips that are 2 1/2 inches along the full width of the fabric.Most quilting fabrics are approximately 42 inches wide. So, if you are making a quilt that is 90 inches by 90 inches, you'll need 360 inches of binding.Example:90+90+90+90=360 inches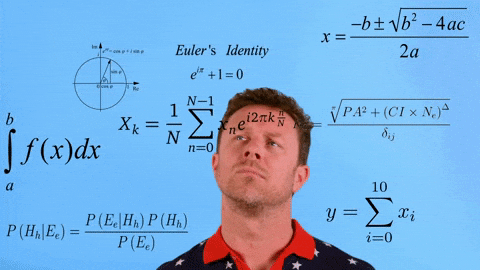 Photo from GIPHY
If you have a yard of fabric, you'll cut nine strips that are 2 1/2 inches wide by 42 inches long.If you've never made quilt binding, this video will walk you through all of the steps in cutting and creating the perfect quilt binding. It also shows you how to use it to finish your quilt.
Step 6: Cut your batting and quilt backing
The last cutting step is measuring and cutting your quilt batting and backing. These will be large pieces. Some quilt batting comes already pre-measured for size.Take note of the package you purchase. Batting can come in twin, full, queen or king size.As noted earlier, you should consider purchasing extra-wide fabric for your quilt backing. This will allow you to have one solid piece of cloth for nearly any size quilt your making.
Step 7: Make your quilt top
Now, this is the fun part!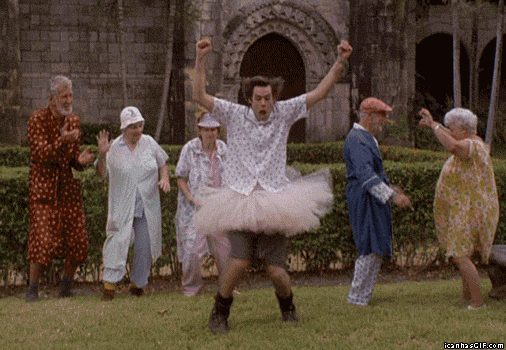 Photo from GIPHY
I find it best to lay out all of my quilt blocks, and sashing if you're using it, to see what it all looks like together. Sometimes you'll notice you want certain blocks closer to or further away from each other, based upon content or color.This layout will give you the opportunity to make little tweaks here and there before you actually start sewing.Let the sewing begin!
Once you have it exactly as you want, you will start sewing together rows of blocks.As you complete your rows, you will press your seams. This will make the "lines" on the front of the quilt much neater.A tip for accuracy:Nesting seams will go a long way in keeping your lines perfectly straight.Here is a video on how to nest seams. It's all about the press!This video explains nested seams very well. While the pieces this quilter is using are much smaller than t-shirt quilt blocks, the same principle applies.Check it out.
Remember:While most quilting is with a 1/4-inch seam allowance, t-shirt quilts are sewn with a 1/2-inch seam allowance.
Quilter's Quick Tip
Use masking tape to mark your 1/2 inch seam allowance on your sewing machine to act as a guide for the perfect seams every time
Step 8: Make your quilt sandwich
Making a quilt sandwich is just as it sounds. You will layer your quilt top, batting, and quilt backing.
Quilter's Quick Tip
Be sure to leave plenty of batting and quilt backing around the edges of your quilt — as much as five inches per side — which will give you plenty of wiggle room while you quilt
Once you have your sandwich together, you'll want to either use pins to hold it together. This will prevent the layers from sliding and puckering while you quilt it.As an alternative to pins, a quilt basting gun can be a handy tool. Once I started using one, I never went back to safety pins again.Check out this video that will show you how easy this technique makes quilt basting.
Step 9: Quilt!
Now, this is the most challenging part of making your t-shirt quilt. If you're using a home sewing machine, and you're making a large quilt, you probably know all too well how difficult it can be to quilt a large piece on a small sewing machine.However:It can be done!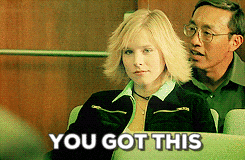 Photo from GIPHY
For one, you may want to stick to some of the more basic quilting techniques like "stitch in the ditch." This is where you simply place your quilt stitches in the same stitch lines of your patchwork.Stitch in the ditch is especially useful if your t-shirt pieces have patterns or prints that you don't really want to stitch over.This video covers this method using a walking foot, which keeps all of those layers nice and smooth.
This method also allows for just straight stitches, which means you can work with your large piece rolled to move through the throat of your machine more easily.More advanced quilting methods like free motion quilting are possible. However, they take more time and practice.
Do It Yourself vs. Hiring a Pro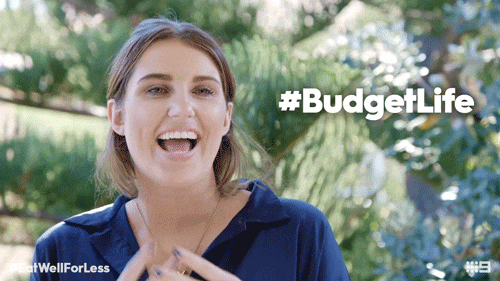 Photo from GIPHY
Often, people will choose to make everything to the point of the quilt sandwich and send their piece out to someone who has a longarm machine for the quilting work.This can produce truly professional results and beautiful quilting patterns. However, it can also require time and money, increasing the overall cost of your quilt.The decision to send it out vs. do it yourself is a personal one based upon your quilting expertise and your budget.
Costs: time vs. money
Long arm quilting fees will vary by quilter and location. In general, most long arm quilters will have a minimum quilting fee they charge. For a piece like a t-shirt quilt, the minimum isn't of consideration because the service required will be far beyond the minimum.Rates are often by square inches and can range anywhere from $.02 to $.10 per square inch. So, for a 90-inch by 90-inch quilt, that would be in a range from $162 to $810 depending on the complexity of the quilting desired.
Yeah, so, you'll just need to consider your skill level, the value of your own time, and the quality of quilting you are seeking.Also, if you seek out a long arm quilter to finish your t-shirt quilt, you can decide if you would also like them to bind your quilt. This can be done for an additional charge.
Caring for Your Quilt for Years to Come
hoto by Fancycrave.com from Pexels
Caring for your t-shirt quilt doesn't require any special instructions. You can just wash it on a gentle cycle and dry it in the dryer as you would most of your clothing and blankets.T-shirt quilts are unique keepsake items that can preserve some special memories. Whether for a child going off to college, or perhaps graduating from college, or made of a loved one's clothing as a remembrance piece — a t-shirt quilt can be something cherished for years to come.And, made with love makes it that much more meaningful.And it's going to be your new favorite, if you can get it away from everyone else!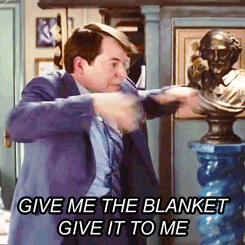 Photo from GIPHY
Have you made a t-shirt quilt? Do you have any tips or tricks you'd like to share? Tell us in the comments below.