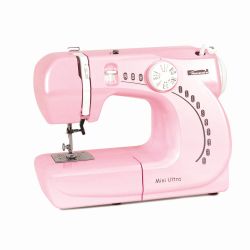 The Kenmore Ultra Mini sewing machine is considered a reliable and portable machine. Do to its small size it can be easily transported.  It makes the perfect beginner sewing machine because it's very basic and it is easy to learn how to use.   This machine is great for the beginners and the experienced because it is easy to use, small, high quality, and reliable.  Also, the Kenmore sewing machine has a price that fits its size.  Typically the Kenmore sewing machine lasts for more then ten years in good condition.  It has so many features of a large and high technology sewing machine but it is more compact and cheaper.  If you are interested in a low maintenance and easy to use sewing machine the Kenmore Ultra Mini sewing machine.
Features:
Free-arm sewing machine with 25 built-in stitches, with each having multiple stitch functions.
Storage built into the free arm. This includes 5 accessory presser feet and a bilingual users manual.
1-step auto-size buttonhole
Buttonhole opener
Auto bobbin winding
Thread cutter
Drop-in bobbin loading
2 plastic bobbins included
Needle threader
110-volt machine operates with foot pedal
Has a light bulb for illumination in the work space
Ability to stitch jeans and trouser cuffs easily and quickly
550 stitches per minute
Weighs less then 10 pounds
Dust cover
Darning plate
Push and pull clutch
Thread tension settings
Spool pin felt
Pros:
  Ability to Sew denim
  Sews as fast as larger machines but takes up less space
  Works with almost any type of fabric
  priced between $90-$115
  Durable
  Long lasting
  Wide range of stitches- straight stitch, zig-zag, darning, blind hem, button hole
  Produces high quality stitches through layered fabric
  Light weight
  Good training sewing machine
  Consistent
  Easy to thread and set up
  Easy to store
Cons:
  Does not offer a stitch width control
  Stitch lengths are preset
  Only has three stitch lengths for straight and zig-zag
  Sometimes runs slow
  Gets tangled regularly
  Not for heavy use
  Bobbin breaks often
  You have to adjust tension for different fabrics
Stitching:
Mini doesn't mean less, especially when it comes to the stitching in this machine.  Stitching is the most important part in every sewing machine.  With 25 built-in stitches all with different functions, this machine is a mini powerhouse.  The most commonly used stitches are the zig-zag stitch, straight stitch, darning stitch, blind hem stitch and the buttonhole stitch.  Although the Kenmore Ultra Mini sewing machine does not have the  amount of variation in stitching as the high technology larger machines but  it still does its job.  The variation in the size of stitch is one of the only features that is actually mini on this machine.  It only offers 3 stitch lengths for the straight stitch and the zig-zag  stitch.  This powerhouse of a machine produces 55o stitches per minute which is competitive with all of the high end sewing machines.   Not only is the stitching proficient but it is also quality stitching.  The Kenmore Ultra Mini sewing machine can stitch threw almost any fabric and sometimes layers of certain fabrics.
Conclusion:
The Kenmore ultra mini sewing machine is a great over all machine.  For the size of the sewing machine it produces high quality products.  Not only is the sewing machine mini but it is a reasonable price for all the features that are compacted in it.  Once in a while the machine may jam or something may break but that happens with every  sewing machine eventually.  The mini sewing machine is a great beginning sewing machine and is great for people who do not sew that often.  It does not do well with heavy work loads but it is great for the occasional use.